Varicose Veins Leg Swelling: Causes and Treatment
A common cause of leg swelling is venous insufficiency or leaky veins. Having leaky veins is the same reason some people develop varicose veins.
Muscle contractions in your lower legs act as pumps, and elastic vein walls help blood return to your heart. Tiny valves in your veins open as blood flows toward your heart, then close to stop blood from flowing backward.
Normally, the one-way valves in your leg veins keep blood moving toward the heart. When the valves do not work properly, they allow blood back into the vein. This, in return, causes leg swelling.
Varicose veins leg swelling usually happens in the lower legs, such as the feet and ankles.
Here, we discuss common leg swelling causes and signs you need to seek treatment.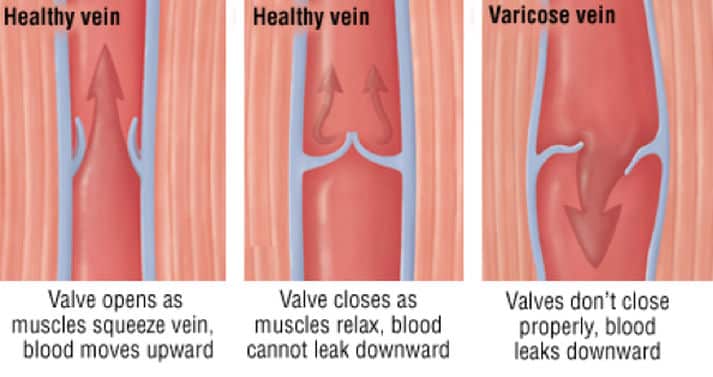 ---
Common Leg Swelling Causes
Can varicose veins cause leg swelling? Yes. In fact, venous insufficiency is one of the most common causes of swelling of the legs.
However, there are many different causes for leg swelling, including swelling related to fluid buildup and swelling due to inflammation.
Here are the most common causes of leg swelling:
Heart Problems
Kidney Problems
Lymphedema
Medications
History of Blood Clots
Osteoarthritis
Obesity
Pulmonary Hypertension
Cirrhosis
---
Risk Factors
Prolonged Standing or Sitting
Family History
Being a Female
Multiple Pregnancies
Obesity
History of Blood Clots
Related Symptoms
If you're experiencing varicose veins leg swelling, you'll likely also experience the following symptoms:
Progressive Swelling
Leg Fatigue
Leg Heaviness and Aching
Muscle Cramps
Skin Color Changes
Is Swelling of the Legs Dangerous?
Swollen legs might indicate an underlying medical condition, so seeking medical care is important. It can be dangerous depending on the cause of the swelling, although mild swelling can be caused by sitting or standing too long, pregnancy, a high sodium diet, or premenstrual syndrome.
When Should I be Concerned About Leg Swelling?
Seek medical attention immediately if you experience sudden or severe leg swelling without an apparent reason. Seek emergency care if you have leg swelling, leg pain, breathing problems, or chest pain. Since leg swelling causes vary, we recommend contacting your doctor to determine the root cause of your swelling.
Comprehensive Varicose Veins Treatment Options & Care
Significant leg swelling usually indicates a progressive condition that might lead to other complications.
Varicose veins leg swelling treatment varies depending on your diagnosis and the severity of your condition. In general, it's best to treat the root cause of your condition.
There are several ways to treat varicose veins and venous insufficiency, however, the most current technology involves using laser power, radio frequency power, or a thick solution to eliminate the varicose vein. As the main source of the vein is eliminated, other smaller veins, like branches of the larger vein usually go away.
Treatments are performed in the office with the use of local anesthetic. Your varicose veins treatment will depend on many factors, including your age, health, position of the veins and more. You and Dr. Parsons together can make a good decision about your treatment.
Learn more about the difference between varicose veins versus spider veins.
Vein Ablation
We place a small catheter, the size of a strand of spaghetti, into the diseased vein, which delivers energy and shrinks/closes the vein. This is a typical first-line treatment based on your ultrasound results and often used on larger veins. The types of energy include laser and radio-frequency.
Sclerotherapy
Foam is injected into the diseased veins. This foam irritates the lining of the vein, causing it to close. This is typically used for smaller veins that remain after ablation treatment and the treatment of spider veins.
Varithena is a type of sclerotherapy that can also treat larger veins with decreased risk and minimal patient discomfort.
Phlebectomy
The vein is physically removed through a tiny, 2mm incision. This is the most permanent treatment. This is typically used for smaller veins that remain after ablation treatment.
Lifestyle Changes for Leg Swelling Related to Varicose Veins
Depending on the severity of your condition, we might recommend lifestyle changes to complement your leg swelling treatment for varicose veins.
Here are five lifestyle changes that might help alleviate varicose veins leg swelling symptoms:
Elevating your legs
Wearing loose clothing around your legs, thighs, and waist
Losing weight
Exercising
Taking sitting breaks from standing too much
If you're experiencing swollen legs and have signs and symptoms of varicose veins, contact us to discuss your options. At CardioVascular Health Clinic, we provide a wide range of services to help diagnose and treat our patients. We'll help identify the root cause of the swelling and determine the best leg swelling treatment option for your condition and lifestyle.