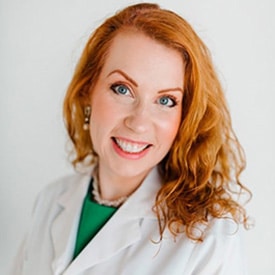 Dr. Sherisa Warren prepared to partner with Oklahoma patients in their health goals
Dr. Sherisa Warren is the newest addition to CardioVascular Health Clinic's team of surgeons in Oklahoma City.
Dr. Warren treats all aspects of vascular disease, and has particular interest in the minimally invasive endovascular treatment of peripheral arterial disease (PAD).
"I did not pick vascular surgery, it picked me," said Dr. Warren. "This is my absolute niche in life. Vascular is connected to everything, therefore, you get immediate gratification seeing the outcomes in patients. Under my watch the patient must be safe. I take that very seriously and it is an honor."
Dr. Warren's sense of responsibility was instilled in her at a young age, as she was raised on a farm in Eastern Kentucky where she hand-milked cows three times a day.
"I knew at age 3 that I wanted to be a surgeon to help people," stated Dr. Warren. "My Grandma was a nurse for 40 years and used to read medical books to me. My entire family cultivated a love for helping and serving others."
That passion for service and medicine made Dr. Warren a good fit for CardioVascular Health Clinic.
"With Dr. Warren, we found a true partner who shares our commitment to patient care," stated Dr. Jim Melton, co-founder of CardioVascular Health Clinic. "She provides a great blend of knowledge and a strong passion for people. We are excited to have someone of her caliber as part of our vascular surgery team."
CardioVascular Health Clinic has ten locations across Oklahoma, most specifically targeting the rural area. Dr. Warren fully comprehends the importance of providing rural healthcare, coming from an area well known for limited healthcare.
"Something was longing in my heart to help with the underprivileged without access to care," Dr. Warren said. "CardioVascular Health Clinic's vision aligns with mine; patient care is number one. Oklahoma City is a great balance for that alignment – professionally and personally. God, country and family atmosphere – it's everything I wanted."
Dr. Warren's skilled hands are not just limited to an operating room. She received an academic music scholarship and received classical training. Dr. Warren can sing, play the piano, harmonica, and guitar. She was also a worship leader before medical school.
Dr. Warren received her bachelor's degree from Union College in Kentucky and her medical degree from University of Pikeville Kentucky College of Osteopathic Medicine. After graduating, she completed a residency in general surgery at Garden City Hospital in Michigan. Upon finishing her residency, Dr. Warren participated in two fellowships. Her first fellowship was in vascular surgery at Maclaren Macomb Hospital in Mt. Clemens, Michigan; her second fellowship was in general and endovascular surgery at Arizona Heart Institute and Hospital in Phoenix. From there, she began practicing at Abrazo Arizona Heart Institute, a world-renowned destination for heart and vascular care.
Dr. Warren is located at the main clinic at 3200 Quail Springs Parkway, Suite 200, Oklahoma City.